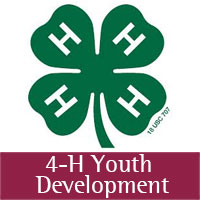 4-H & Youth Development
4-H youth development is a dynamic non-formal education program which teaches life skills through leadership and citizenship opportunities in a fun environment. 4-H youth learn effective communication skills, positive self-esteem, a solid sense of personal responsibility, and the ability to make sound decisions.
Interested in joining 4-H? Go to ZSuite to set up an account for your family and complete the forms. Your enrollment will be complete when approved by the County Extension Office.
You may join the club by contacting Lena Zielie at 4lrbug@gmail.com. See below for details on joining the shooting sports club.
Enrollment for the 2021 - 2022 year is open through March 7, 2022.
High Country Team 4-H
The club meets on the 2nd Thursday each month at 5:30 p.m in White Rock.
Contact Lena Zielie at 4lrbug@gmail.com for details.
Team LA - Young Guns
SHOOTING SPORTS
Archery practice is held every Tuesday from 5:00 pm until dark at the Los Alamos Sportsman's Club beginning March 2021.
Shotgun practice is every Wednesday from 3:30 to 6:30 pm.
You must have an approved enrollment to attend practice under 4-H. To complete your registration and forms visit ZSuite.
Contact Mike O'Neill at (505) 309-1762 for further details.
Necessary Information