Master Gardener Class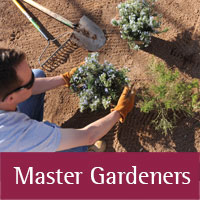 Want to Become a Master at Gardening?
Want to become a Master at Gardening?

Whether you are a beginner or have been gardening for years, learn about gardening in New Mexico's high desert.
The class will cover plant selection, xeriscaping, turf, pest management, home vegetable & fruit production, pruning, etc.
Cost for the class is $200.00. Offered every year January through April.
Please call the Extension office at 505-662-2656 or email at Los Alamos to reserve your spot.
Los Alamos Cooperative Extension Service
1251 Bathtub Row
Los Alamos, NM 87544
Phone: (505) 662-2656
Email: losalamos@nmsu.edu