Discovering, Developing, and Delivering Knowledge
The College of Agricultural, Consumer, and Environmental Sciences is an engine for economic and community development in New Mexico, improving the lives of New Mexicans through academic, research, and extension programs. What we do positively impacts water usage and conservation, food and fiber production, environmental stewardship, and the health of New Mexicans. The college offers bachelor, masters, and doctorate programs.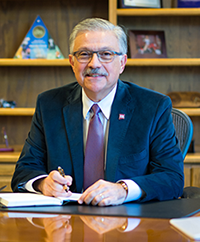 From our Dean, Rolando A. Flores
I have been in the ACES College since August 2016. During that time, I have learned about this diverse and beautiful state, its resources, industries, culture, and needs. I am committed to work with you so ACES continues to build on successes in food and fiber production, environment stewardship, healthy families, economic development, and expanded students' opportunities. I am interested in listening to your ideas and concerns, so please contact me. Learn more …
I encourage you to contact me at at 575-646-3748 or agdean@nmsu.edu.