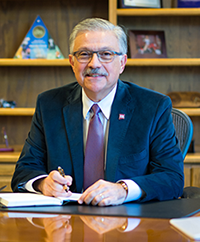 From our Dean, Rolando A. Flores
I have been in the ACES College since August 2016. During that time, I have learned about this diverse and beautiful state, its resources, industries, culture, and needs. I am committed to work with you so ACES continues to build on successes in food and fiber production, environment stewardship, healthy families, economic development, and expanded students' opportunities. I am interested in listening to your ideas and concerns, so please contact me. 
  Learn more …
I encourage you to contact me at at 575-646-3748 or rolflo@nmsu.edu.
---